Hello!
Jacinta Keefe Photography is an Aboriginal-owned business run by, Jacinta Keefe, A proud Wiradjuri woman with blood ties from the Galari Bila (Lachlan River) in New South Wales. She is currently living and working in Naarm (Melbourne). She is a visual artist with a background in photography and a love of live music.
Jacinta graduated from The Victorian College of the Arts with a Bachelor of Fine Arts, Visual Arts Photography in 2015 from there she took a break from study and art creating to pursue her love of live music photography.
It started with Brunswick bar, Baxter's Lot. Here she worked with Kiwat Kennell and together they created a world-class Open Mic Night that drew hundreds of people every fortnight. Her roles included booking artists, creating the bar's social media posts, and photographing the fortnightly open mic night which quite often featured over 20 artists in a single evening.
This role and continued presence in the live music community lead her to be nominated as Live Music Photographer of the year in 2019. Sadly, she didn't win but is looking forward to the opportunities being nominated has given her.

Image to the right taken by Tiffany Garvie Photography.
Through her connection to culture and her strong photographic skills and abilities to think outside the box, Jacinta started working for Aboriginal Non-for-profit Ngarrimili.

Her roles there allowed her to become engaged with the Victorian Aboriginal community more than she already is, learn to build websites and e-commerce with Queensland-based Aboriginal business, Empower Digital and continually grow her skill set in a well-supported and loving environment.

The job has allowed her to pivot during the Covid-19 Pandemic to expand her horizons into Product Photography and Mobile Photography where she is able to teach others about photography and upskill them to ensure they succeed.
In February 2022, Jacinta decided to step away from Ngarrimili and take the leap into full-time photography work and hasnt looked back.

She's been able to work some big events, such as First & Forever held by creative Victoria and Mushroom Publishing and even go on an International trip to Aoteroa (New Zealand) to participate in a cross cultural exchange.

Full time photography has been able to allow Jacinta to spread her wings and do more of what she loves most, photographing people and documenting their stories!

Image to the right taken by Tiffany Garvie Photography.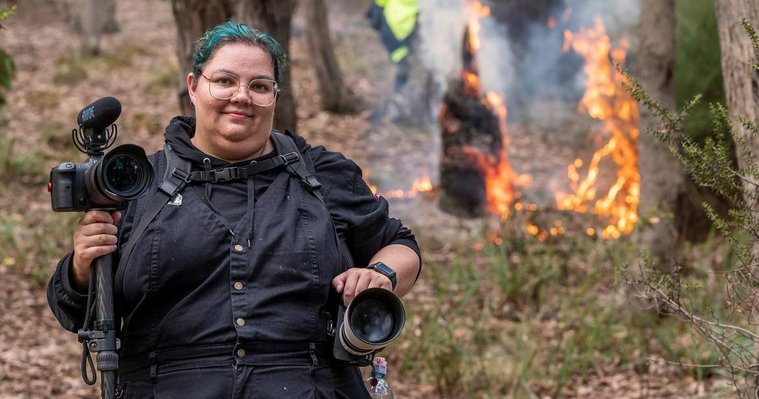 Selected Clients
APRA AMCOS
Melbourne Museum
Monash City Council

Merri-Bek City Council
The Metro Tunnel Project
Cross Yarra Partnerships
The Arts Center (Melbourne)

The University of Melbourne
We acknowledge the traditional custodians of the lands on which we work and we pay our respects to Elders past and present. We acknowledge the sorrow of the Stolen Generations and the impacts of colonisation on Aboriginal and Torres Strait Islander peoples. We also recognise the resilience, strength and pride of the Aboriginal and Torres Strait Islander communities.